---
︎ APP & WEB
"Ball State Field Trips aims to create powerful learning tools for elementary students and teachers across the state in celebration of the bicentennial. Indiana Pioneers: 200 Years of Incredible Hoosiers and Big Ideas is all about our state's history and the people that made it."
During the summer of 2016, the Digital Corps of Ball State University revamped a project formally known as Electronic Field Trips and created the new and improved, Ball State Field Trips. The project focused on taking students on educational, virtual field trips to featured locations around the world. In the past, for each location, a live show was produced and streamed directly to classrooms. In addition to that tradition, an interactive app featuring additional video, articles, activities, and photos was created to compliment the live stream. I was given the opportunity to co-lead the rebranding and design of the app along with designer,
Grace Winiger
, and also worked alongside developers, videographers, and a team of UX designers. The theme for this Field Trip was called "Indiana Pioneers: 200 Years of Incredible Hoosiers and Big Ideas", celebrating Indiana's Bicentennial. The project attracted over 250 educators and 6,000 elementary students across 91 different cities across Indiana.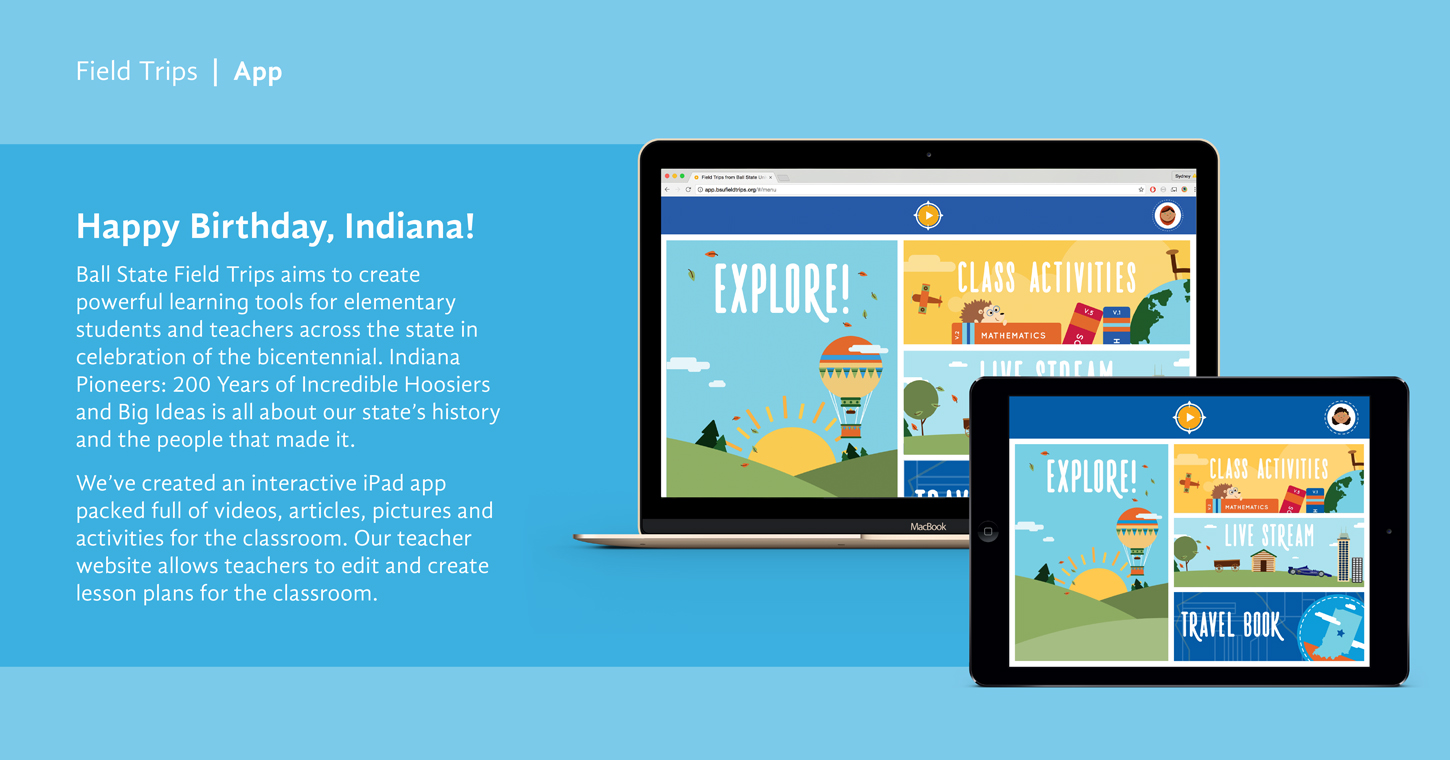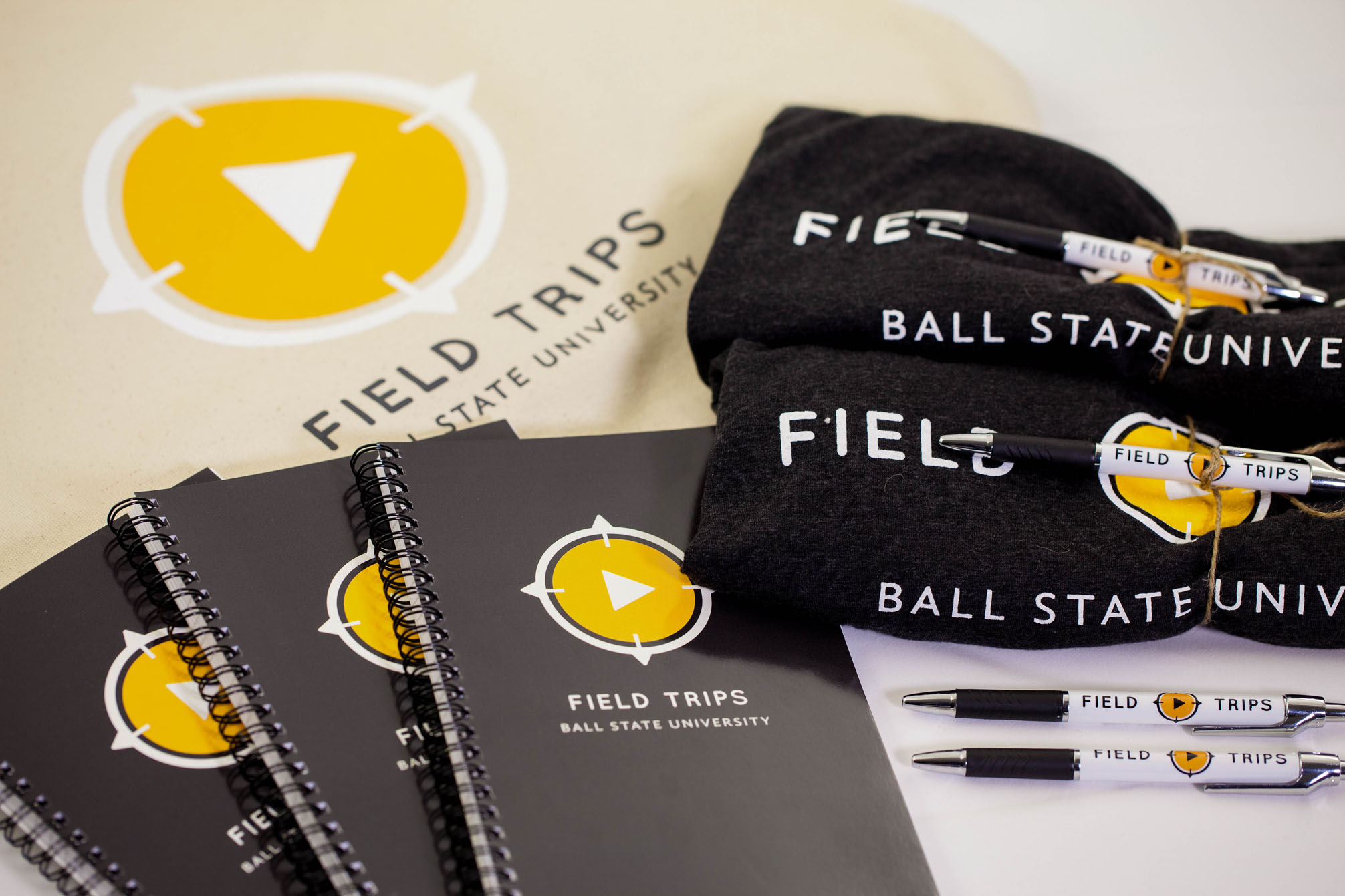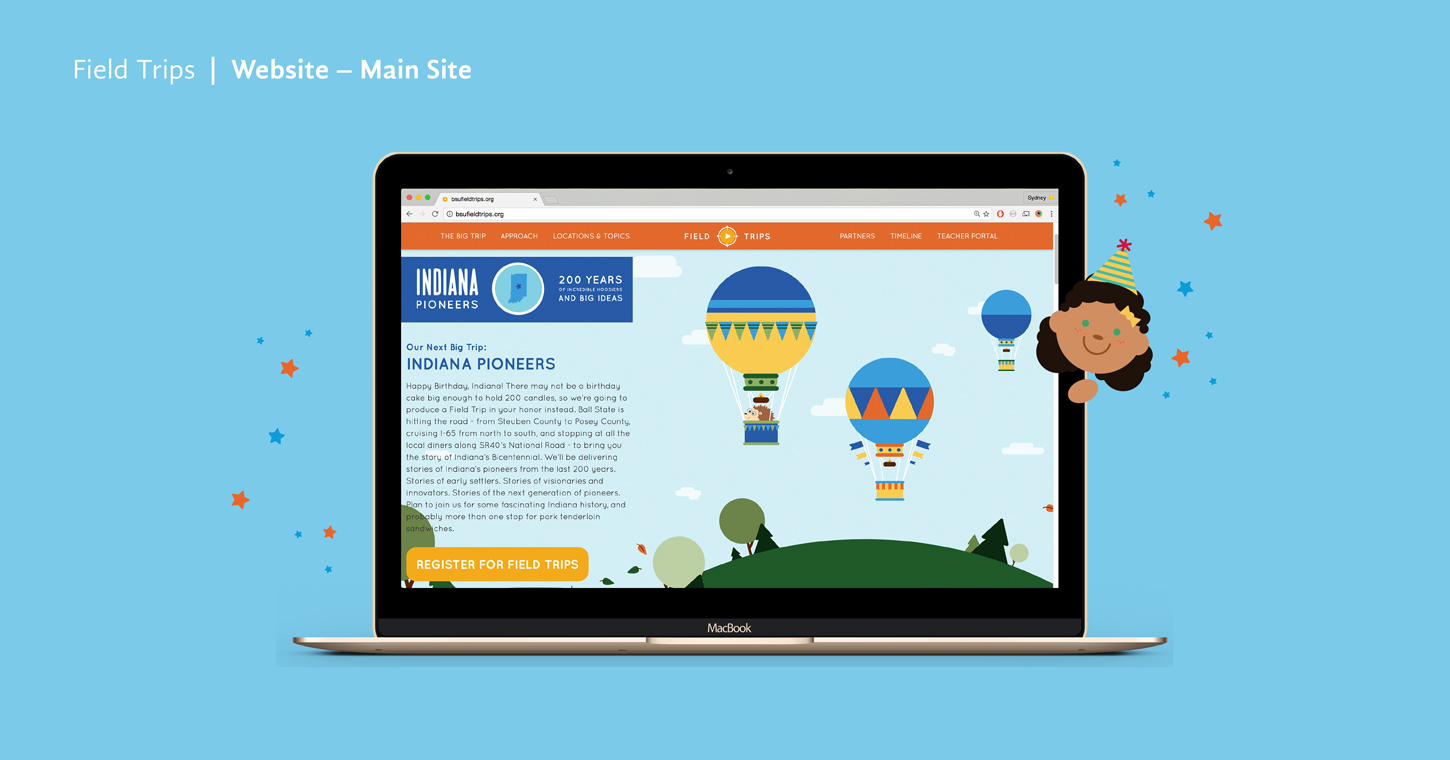 ---
Keep Oregon Beautiful:
Paper Promo
︎ ILLUSTRATION

Keep Oregon Beautiful was a conceptual paper promo created for a class project. During the summer of 2016, a friend of mine was visiting Portland, OR to check out a potential internship and invited me to come with her. Never having traveled west, I jumped on the opportunity for a little adventure in my life. As an Indiana native, I had never been exposed to any type of scenery other than a few trees here and there and miles upon miles of flat, boring grassland, so you can imagine that I was blown away by everything that Oregon had to offer.

I was ultimately inspired by how important Oregon's environment was to those who had lived there. A local I had talked to expressed that if there was any word of trees coming down to sell off a plot of land, the public had something to say about it. Additionally, mainly in Portland, there was a heavy appreciation of design and arts culture that made me fall in love with the area even more.

Conceptually speaking, for this project I created a set of three, die cut brochures that would be created in a partnership with Neenah Paper and Paper Jam Press, a well-know letterpress in the Portland area. I loved the simplicity of Paper Jam Press prints, which consisted of quotes from popular hip-hop and rap songs from the early 90s. The brochures were meant to bring awareness about environmental conservation and wellness in Oregon and to promote Neenah Environment Papers. I focused on three different regions: Multnomah Falls (forested areas), Cannon Beach (the coast), and the Pearl District in Portland (city). Each brochure was hand illustrated and printed on a different Neenah Environment Paper.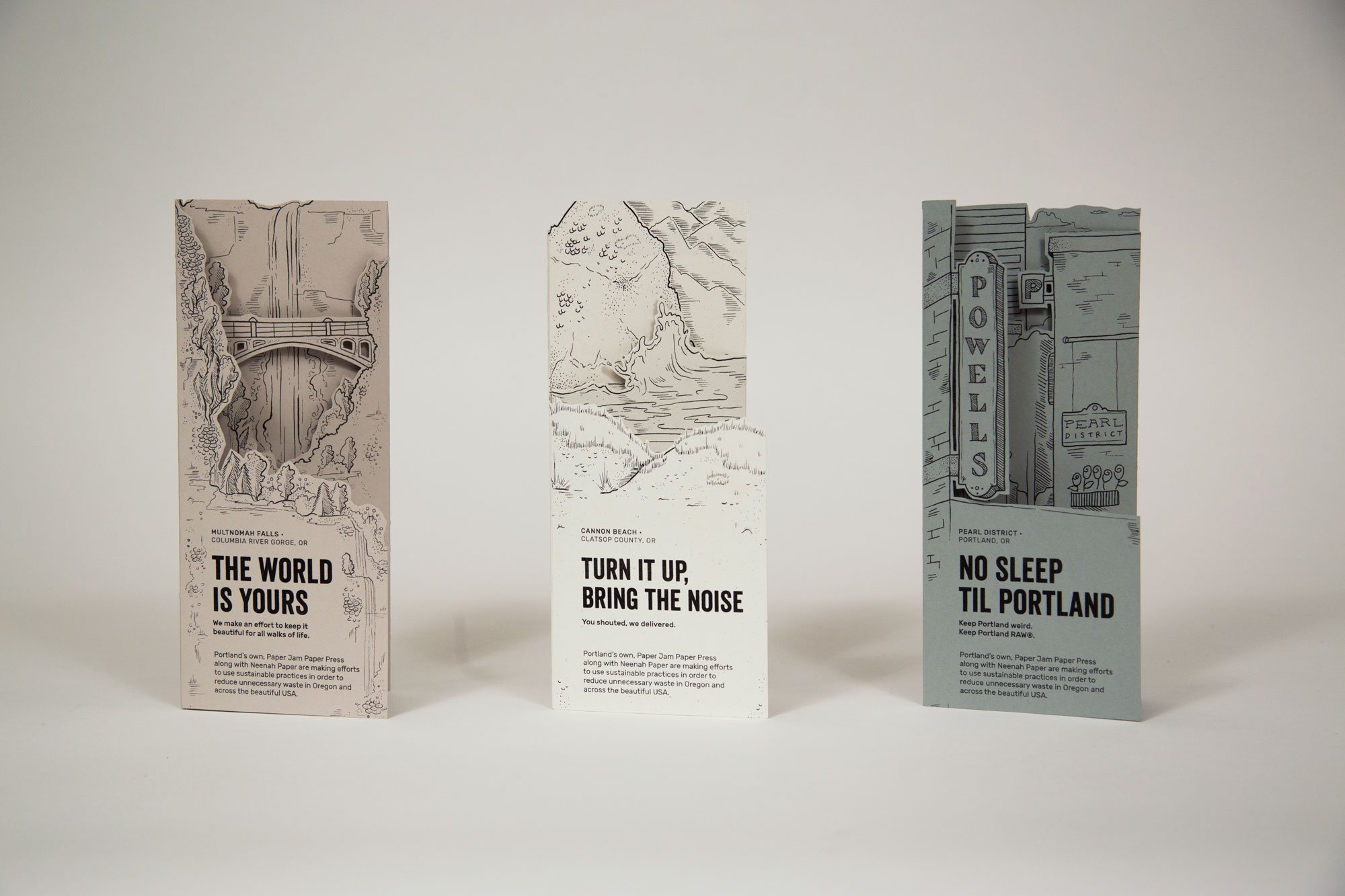 ---
Freelance inquires or just
wanna chat about life?
Currently accepting new clients
Write me. Let's be e-pals, seriously.
︎
sydneynoland.design@gmail.com
Sydney Noland © 2020 ︎ Seattle, WA
Sydney Noland © 2021 ︎ Seattle, WA