October 30, 2018
Adobe Max 2018
75% Creativity Energizing

20% Meaningful Connections
5% RAVE
I'm not kidding about that rave part. Bumpin' music, lasers, fog machines, and bright colors everywhere!
A couple of weeks ago, I attended my first professional creative conference in L.A.; the first trip I've taken in a while where I actually stayed within my time-zone—bonus points! As a first-timer, I wasn't exactly sure what to expect. The only thing I knew about this conference was that I was in love with their branding and I had a lot of built-up anxiety about going by myself. Little did I know that this conference, in just three short days, would completely blow my mind.
Overall, the main goal of the conference was not only to bring creatives together under one roof, but also to show off some of Adobe's program updates, bug fixes, and innovative projects that were in the works. The breakout sessions aside from the keynote speakers were sectioned into three main categories: Adobe product overviews, feel-good talks, and chronicles of the Greats (a.k.a designers that inspire me).
Adobe Product Updates & Overviews
Personally, I didn't love the sessions I chose for this category because most of them fell within After Effects, which usually takes a bit more time to do an in-depth demo due to the program's complexity. I was hoping to take away tips that might be useful for animations that I create for IHME's social media pages, but they were a bit elementary for me and a little rushed.
However, on a whim, I attended a session for one of Adobe's newer programs, Dimension, and fell in love with the possibilities for this new platform. Comparable, but not as powerful to C4D, Dimension provides a gateway for any designer, creative, or artist to jump into creating 3D graphics. Previous to this specific session, it was sold as a mockup tool for designers, but it also works as an expressive way for 2D artists and designers to dip their toes into a multidimensional world without hesitation. Adobe's new tutorial feature that's embedded within their programs makes learning the ropes of their new features a breeze.
Another new update that will be seen within most, if not all, of Adobe's programs is a beautiful new AI system called Adobe Sensei. This new feature makes those tedious, time-consuming tasks so amazingly easy with a click of a button. Artificial intelligence that helps with simple video color correction, smart cropping, masking complex graphics on the spot, reformating documents that fall victim to last minute size changes, and so much more.
Some of the designers I chatted with were critical of this new update, claiming now that everyone now could easily be a designer, editor, colorist, and more. Even The Computer was going to put us out of a job. In my opinion, this idea couldn't be further from the truth. Creativity takes skill, practice, and, most importantly, a human touch to bring whatever project you're working on to life. With this new AI system, I'm looking to work smarter, not harder and I applaud this update.
Those Feel Good Talks
Stop everything you're doing and check out the book,
Banish Your Inner Critic: Silence the Voice of Self-Doubt to Unleash Your Creativity and Do Your Best Work
, by
Denise Jacobs
.
︎ Going through a creative rut?
︎ Don't think you're good enough?
︎ Have anxiety?
︎ Struggle with depression?
︎ Are you a human being?
GET THIS BOOK.
Before this conference, I struggled creatively for months. Continuously, I dismissed any idea that popped in my pool of thoughts as not being good enough and was not being as explorative or risk-taking as usual. As dramatic as it sounds, I was feeling pretty much like a failure, until Denise Jacobs walked on stage that sunny Tuesday morning and worked her black girl magic into my withering creative soul.
Backed by scientific evidence and research, this book is an outstanding guide on how to shut up that little voice that constantly screams, "Yo homie, you suuuuck!", so you can get back to spreading your beautiful magic across anything you set your mind to. Jacobs even suggests defining your inner critic, giving it a name and personality. I named mine Olivia and she is a REAL downer, but she's keeping quiet for now.
If you do purchase this book, seriously take time to be thoughtful when doing each activity. I dug up some deep-rooted issues I've been holding onto since I was a child. Honestly, I ugly cried for a good 30 minutes and felt liberated after defining why I was so hard on myself. The experience and journey will be different for everyone, but I highly recommend taking the chance to do some soul-searching.
Chronicles of the Greats
Adobe Max was full of influential designers that I regularly kept up with on social media. Some of my favorites were there to tell their story, including, Jessica Hische, Aaron Draplin, Gemma O'Brien, and one person I was particularly exhilarated about, Adé Hogue.
I found Adé's Instagram profile earlier this year while attempting to accomplish a goal I set out for myself—to find and follow more designers of color. When I found out he was speaking at Adobe Max I was THRILLED and I signed up for his breakout session immediately. It was amazing to hear his story on where he started (which amazingly didn't even involve an interest in the arts) and to where he is now; a full-on creative director, designer, and lettering artist. Most importantly, it was a beautiful moment for me to see someone from a similar background as myself
killing it
in the design industry.
Unfortunately, when I observe the design community today with respect to who is seen as "making it", from my perspective, the results are overwhelmingly:
︎White
︎Super White
︎Mega White
︎Ultra-White
︎Super-Mega-Ultra White
Haha I know, I'm dramatic, but you get the idea and it's the
truth
. The black part of my identity has to ask:
Where are all the black creatives?
Being one of the only semi-black people in my design graduating class and the only semi-black creative during my employment at my on-campus design job, this conference was the first, I repeat, THE FIRST time I was ever was able to interact with not one, not two, but TONS of other people that were black or biracial and shared the title Graphic Designer.
If I'm being completely honest, I had never met another professional black designer until October 15, 2018, at 7:43 am.
#sad #icouldntfindthem #theydoexist
Getting back to my excitement around Adé, after the talk, I was so blown away by his story and emotionally overwhelmed that I went to my hotel room and ugly cried for a good half hour. I didn't even go to my last session because this was the absolute best way to end the conference and I didn't want to ruin all the good I was feeling. My heart was so full of hope.
Later, after my ugly cry sesh, I had to send over a message of gratitude and appreciation.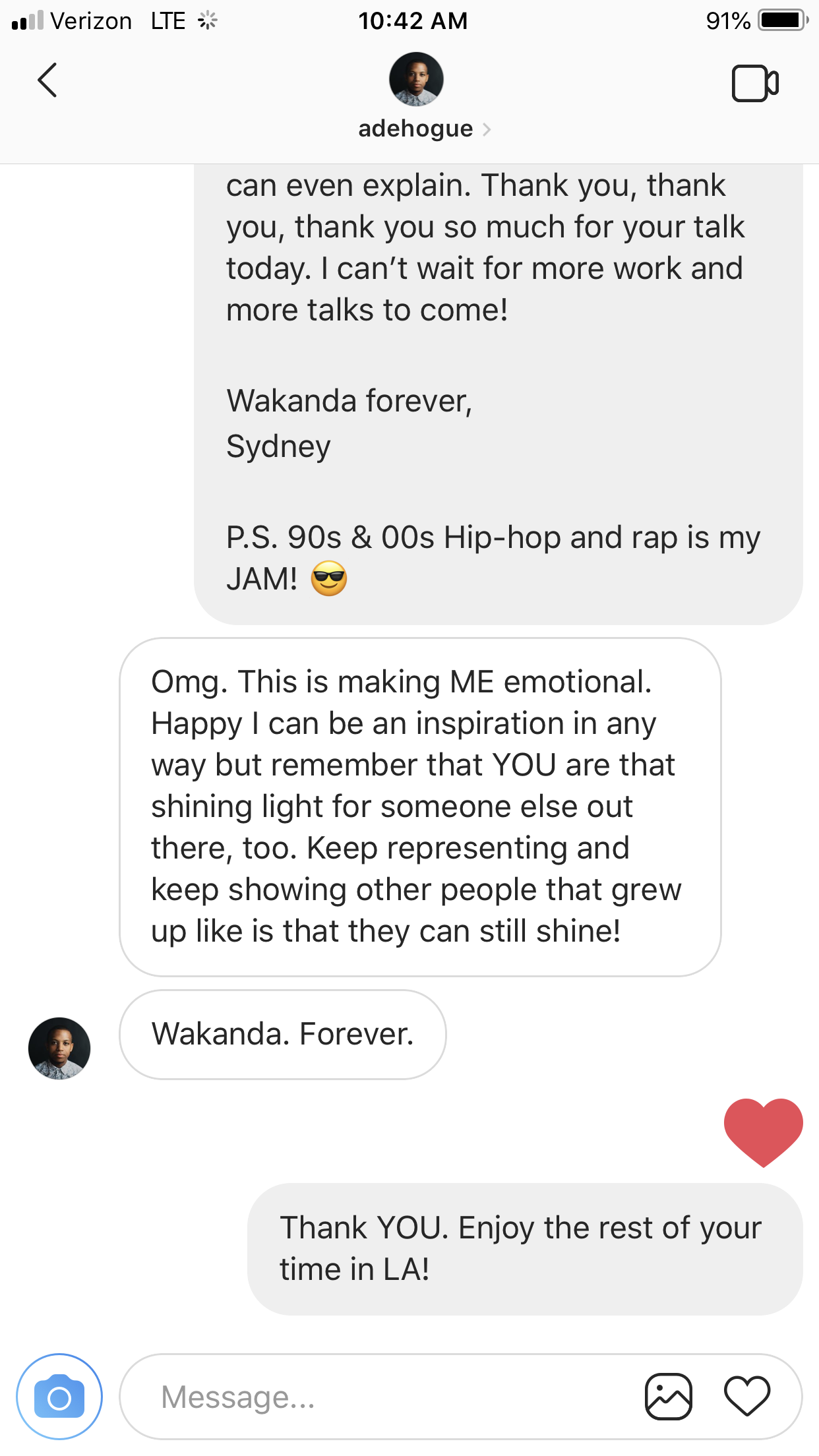 Representation of all backgrounds has always been an important topic point for me and something that I'm extremely passionate about. It's especially critical when it comes to my design work and the design industry as a whole, due to the fact that designers hold more power than they probably realize. Overall, I hope this is the starting point of having more black creatives shine in the spotlight.
...
Lastly, with all the wonderful knowledge I gained as discussed above, what was the best take away from this conference?
Adobe officially announced the new command for multiple Undo's in Photoshop has now been changed from
Option + Command + Z to Command + Z!

VICTORY IS OURS!
The crowd roared in standing ovation. Waves of applause filled the South Hall of the conference center, "Yes! Yes! Brilliant, it finally happened!" Most cheered with excitement, others cried with relief. Even some set aside their social awkwardness to hug their neighbor, sharing the realization that they would never have to hold down⌥ to Undo multiple times in Photoshop ever again.
To close, for all of my creative friends out there, Adobe Max will rock your world and is a conference that is 107.5% worth attending.
---
Hello! I'm Sydney, a designer and illustrator based in Seattle.

For more fun, check out some of my recent work or give me a follow on Instagram, Behance, or let's connect on LinkedIn
.
---